Hamish Todd's personal webpage
You can email me at moc.liamg@1ddot.hsimah, sponsor my work on patreon, and read a bare-bones bio here.
Current research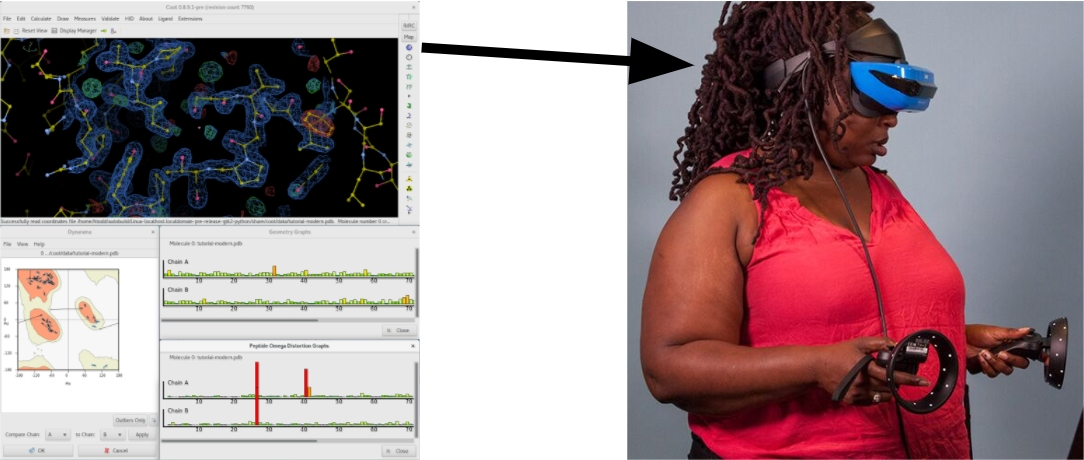 My PhD is about creating VR software for helping to study the shape of biological molecules (including molecules relevant to cancer, diseases, world-hunger-curing crops etc). I am also working on a VR version of a program called "Coot". Coot is used by biologists to create models (eg the balls and sticks in the picture above) from "blurry" 3D pictures of molecules.
Science videos / explorable explanations
Further writing and lectures on game design and education
Things I recommend:
We must be persuasive! Katherine Hayhoe, climate scientist, can tell us how.
My favourite science popularisers: Tadashi Tokieda, Vi Hart, Jacob Bronowski
Games: Portal and Braid, the alpha and the omega. Then if you're a person interested in games and education: Parable of the Polygons, Incredipede, Dragonbox: Elements, Nano Pandas, World of Goo, and Bond Breaker (in fact all of Andy Hall's games). And for people who just like video games, here's my list of recommendations.
---
Contact (in order of preference!)
Email: moc.liamg@1ddot.hsimah
Skype: ddotretephsimah
Twitter: @hamish_todd
Website template by this gentleman